Pregnancy & Birthing Center of Excellence
Pregnancy & Birthing Center of Excellence
If you or someone you know is pregnant—or interested in becoming pregnant—our Pregnancy & Birthing Center of Excellence provides you with all the information and resources you will need.
Resources
Featured Article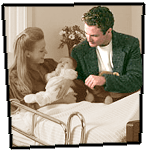 Having a Baby: The Man's Role
Could your use of steroids or antibiotics make it difficult for your partner to get pregnant? You may be surprised at how your health habits affect your fertility.