Cardiovascular Center of Excellence
Cardiovascular Center of Excellence
The Cardiovascular Center of Excellence contains a wealth of information on how the cardiovascular system works, the diseases that cause it harm, ways doctors can repair it, and most importantly, steps you can take to keep it working well for a lifetime.
Resources
Featured Article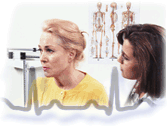 Hopelessness and the Heart Attack: The Role of Depression in Heart Disease
You've just had a heart attack. While working toward recovery, you're focused on your heart and body, but don't lose sight of your mental health. Depression after a heart attack could impede your progress and cause more heart-related problems.